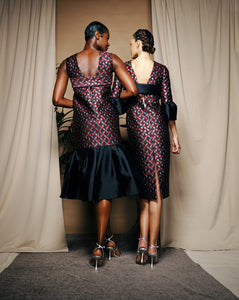 - THE PROLOGUE COLLECTION -
Introducing our 'Prologue' collection, a jubilant celebration of women. Our inspiration draws from the intricate geometric patterns found in the traditional costumes of Nigerian Edo Kwoho Dancers and the timeless elegance of 1950s silhouettes.
From everyday comfort to culturally enriched occasional wear, we pay homage to women who embody boldness, confidence, and timeless elegance, and who appreciate the artistry in fashion.
This season marks our debut in menswear. The collection takes its cues from elements of men's evening wear, merging them with a utilitarian aesthetic, resulting in a harmonious fusion of style and comfort, all meticulously crafted from luxurious fabrics.