THE DESIGNER
Washington Roberts is an advanced contemporary fashion label that takes inspiration from African culture with a contemporary New York sensibility. With the goal of dressing daring, strong women around the world, Washington Roberts is proudly made in New York City.
Washington Roberts embodies fashion that is not only timeless but wearable. While using geometric shapes and precise tailoring Washington Roberts not only adds a touch of culture but also a sense of effortlessness to women.

Born in Nigeria, Washington Roberts acquired the design skills of sewing from his grandmother. As a young child witnessing his grandmother turn pieces of fabric into beautiful wearable art allowed his mind to wander into directions he never thought possible. His grandmother was the epitome of who the WR woman is - bold, confident, strong, hardworking, and yet still was feminine. She inspired him to design for women who shared the same qualities, who knew what they wanted and who desire to stand out from the crowd.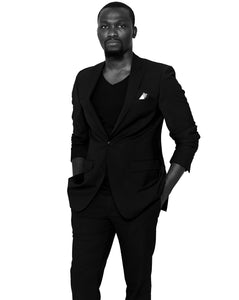 Roberts originally moved to New York City to pursue a career in chemical engineering. Shortly after, while needing something to wear for his birthday, he designed and created the perfect blazer for himself. He soon realized that his true passion was putting hand to needle and crafting beautiful clothing for others to wear. He eventually went on to design for brands such as American Rag, Tory Burch, Victoria Secret and Vera Wang.
In 2011, Washington Roberts debuted his first collection and since then has rapidly become a respected designer of contemporary women's apparel. Each piece is created with attention to not only style, but also superior fit. Featured in coveted publications such as Women's Wear Daily, Harper's Bazaar and Vogue Italia, unique color and textile combinations are used to create the signature modernity that the WR woman has come to expect. Beyond the limits of the status-quo fashion system, Washington Roberts has maintained a forward-thinking perspective that blends the best of both sides of the Atlantic for an archive that will stand the test of time.